And The Sky Fell With It ︎︎︎



In this series of paintings sprayed and poured paint sits alongside meticulous free-hand application, balancing chaos and control, depth and flatness, graphic pattern and tactile surface.

These works are the result of a residency in Italy I undertook with support from the Barns Graham Trust's Travel to Italy Award. I spent time in Florence, Pisa and Siena studying depictions of draped fabric in Medieval and Renaissance paintings, and observing the distinctions between pictorial image and material surface. Paintings have a dual nature, existing as both image and surface simultaneously. Shifting focus away from the narrative imagery of religious paintings I concentrated on how they function as surfaces and how decorative pattern, reflective materials and illusionistic depth may be used strategically to communicate the sublime.

I had a specific late Renaissance painting in mind while working, Jacopo Pontormo's 'Deposition', which is located above the alter of the Capponi Chapel of the church of Santa Felicita in Florence. In this painting drapery creates a sense of dynamic movement which indicates great emotion through complex billowing whirls of fabric. The painting has an unusual and unnatural colour palette of saturated pastels and almost neon brights, which I adapted to use in my paintings.


Hysteric Iridescent (2019)

90 x 120 cm

Oil, enamel, varnish and spray paint on leatherette fabric





Nacreaous Veil (2019)

120 x 160 cm

Oil, enamel, varnish and spray paint on leatherette fabric





Fluorescent Lamentation (2019)

120 x 160 cm

Oil, enamel, varnish and spray paint on leatherette fabric





Pieta (2019)

80 x 100 cm

Oil, enamel, varnish and spray paint on leatherette fabric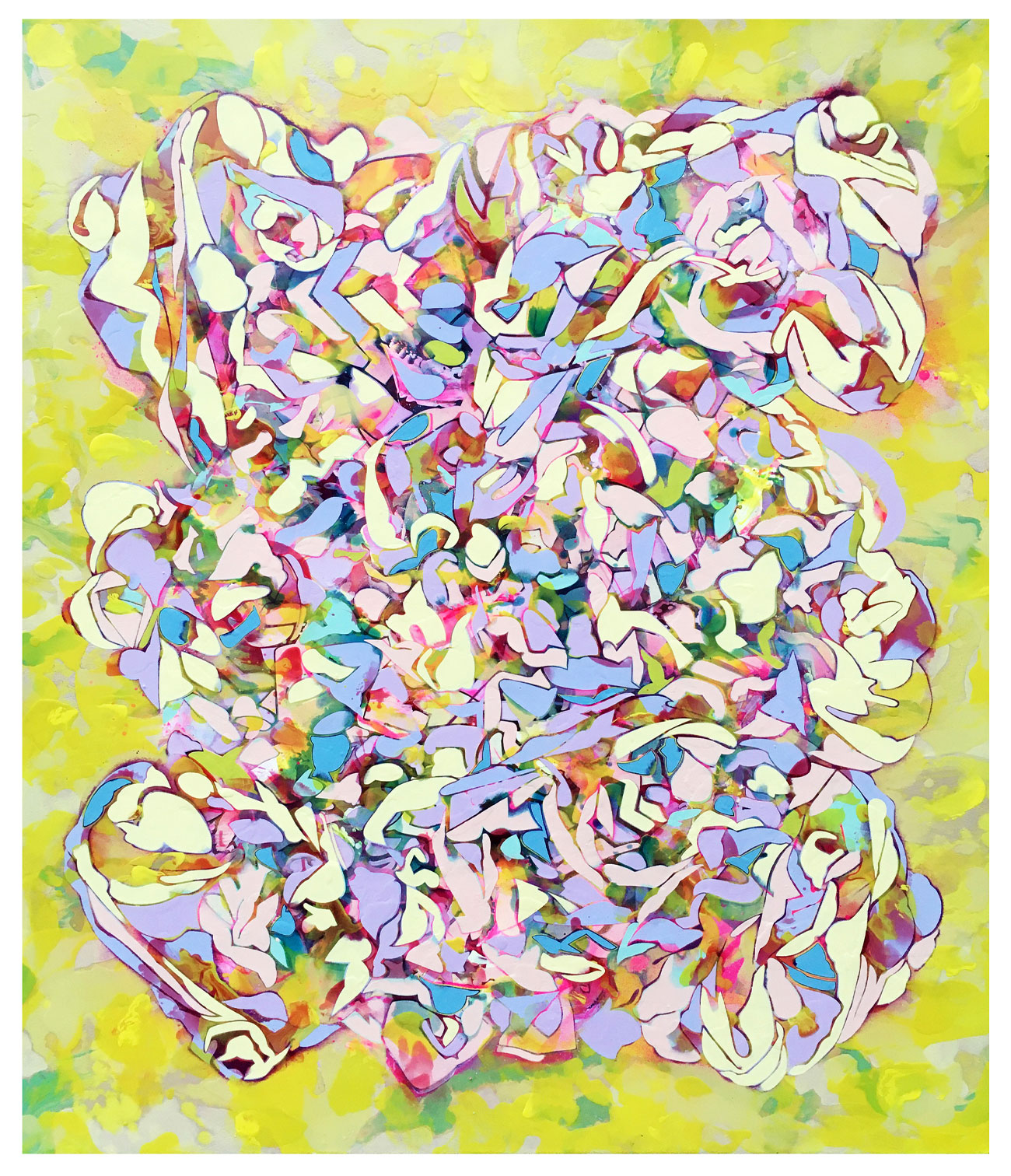 Marble Contortion (2019)

80 x 100 cm

Oil, enamel, varnish and spray paint on leatherette fabric





Candescent Swoon (2019)

80 x 100 cm

Oil, enamel, varnish and spray paint on leatherette fabric